Pastor Chris Cooper & Stephaney Cooper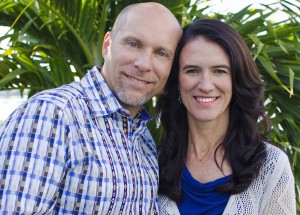 Christopher and Stephaney Cooper have been married for 26 years. They are mom and dad to four children who are all serving the Lord. Their journey together began at Oral Roberts University (ORU) in 1987. Chris graduated with a BA in Christian Education and Stephaney with a double major in Business and Pastoral Counseling. Chris continued his education earning a Masters of Divinity and currently (ABD) for his Doctorate in Church Ministries & Leadership. Stephaney also completed her Masters in Marriage and Family Counseling.
Together they have served in ministry for more than 25 years. Christopher was an active duty Chaplain in the United States Air Force Chaplain Corps. During his chaplaincy, they led the contemporary service in Germany, which grew to become the largest service in the European Command. They ministered five years to 35K Basic Training Airmen annually preaching four contemporary services weekly to 4K Airmen. Chris continues to serve as an IMA Reserve Chaplain in the USAFR. They served for three years in Palm Beach at a 35K member mega church, Christ Fellowship. Stephaney served as counselor and Chris as Director of Servant Leadership & Congregational Care Pastor. In July 2014, the Lord called them to serve here in Spring Creek, NV.
Their hearts desire is to glorify God and build community. They are passionate about seeing the people of God fulfill their God given destiny using their gifts and talents for God's mission. They are outdoor enthusiast enjoying hunting, fishing, and hiking, snow skiing, rafting, sailing, biking and doing "first things" as a family and with others.
---
"The Body is not made up of one part but of many." (I Corinthians 12:14)
Ministry Area Coordinator Name & Email Phone Contact
---
Children/Students
Nursery & Toddlers Karissa Mallory
PreK-1st Grade Roxanne Amerigian
2nd-5th Grade Sharon Locey 775-777-9459
TCT 6th-12th Stephaney Cooper
College Care Packages Jackie Oliphant 775-397-0120
Counseling Stephaney Cooper
Facility Manager Eddie Turner 775-934-0436
Family Fun Night Sharon Kelso 775-389-0649
Finances Carole Lewis 775-753-7512
GoOD Imitators Donna Jewell 775-385-6441
Hospitality Sarah Draves 360-808-2537
Hospitality Team Week 1 Candace Morgan 702-277-6357
Hospitality Team Week 2 Sharon Kelso 775-389-0649
Hospitality Team Week 3
Hospitality Team Week 4 Danielle Caber 405-388-2125
Jail Visitation Seth Pawlik 775-397-4843
Life Groups Chris Cooper 210-845-4718
Men
Prayer Rozalia Erhardt
Ushers/Greeters Roger Locey 775-777-9459
Women Jill Detwiler 775-388-8803
Media Mandy Highland 775-397-1986
Worship & AV Isaac Cooper 210-845-6141
If you are interested in becoming apart of one of the serving teams at Christ Community click here.